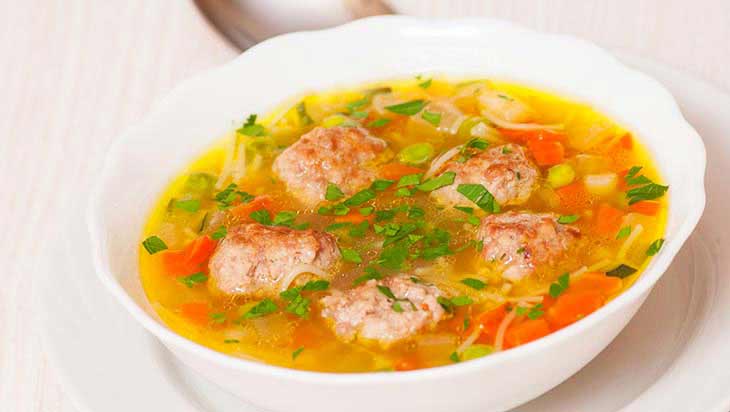 40 min

4 people

Easy
Ingredients
100 g Ojao Gluten Free vermicelli
450 g Ground chicken meat
1 Egg
1 ml (¼ tsp) Ground nutmeg
Pinch of ground cinnamon
Pinch of ground cloves
Pinch of Salt and pepper
1 Onion, finely chopped
2 tablespoons (30 ml) Butter
2 Carrots, peeled and cut into rings
2 Garlic cloves, finely chopped
1.5 liters (6 cups) Chicken broth
2 cups (500 ml) Potatoes, peeled and cubed
½ cup (125 ml) Chopped parsley
Preparation
For the balls
In a bowl, mix all the ingredients well : ground chicken meat, breadcrumbs, egg, cinnamon, nutmeg, cloves. Salt and pepper. Reserve.
For the soup
In a large saucepan, brown the onion in the butter. Add the carrots, garlic and continue cooking for 2 minutes. Add the broth, potatoes and bring to boil.
Form all the chicken balls with about 15 ml (1 tablespoon) of chicken mixture and gradually add to the broth. Cook gently for 30 minutes or until the vegetables are tender. Add the parsley and adjust the seasoning.
Add the vermicelli in the broth, cook for 7 minutes.