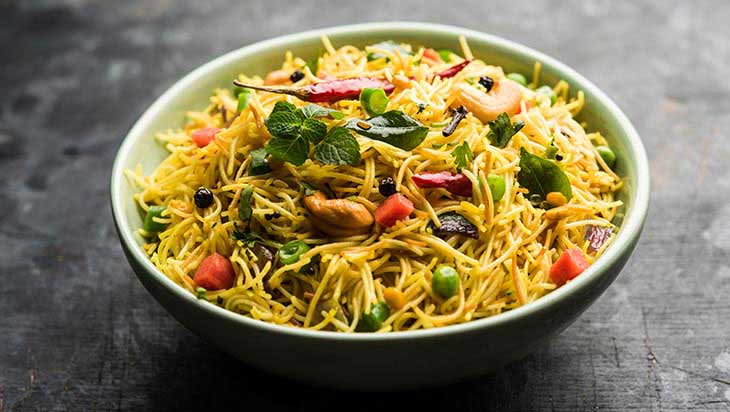 30 min

4 people

Easy
Ingredients
2 cups Ojao Gluten Free Vermicelli
2.5 tablespoons oil
1/4 cup raw peanuts or cashew nuts
2-3 green chillies slit or chopped
1 oon medium sized, finely chopped
1/4 cup carrot chopped
1/4 cup french beans
1/4 cup green Peas
3/4 teaspoon curcuma
1/2 teaspoon red chilli powder
3 cups water
2 teaspoons lemon juice
Few coriander leaves as needed finely chopped
Preparation
In a pan, heat 2 teaspoons of oil. Add vermicelli and roast until light brown.
Take it out on a plate and set it aside.
In the same pan, heat the remaining oil. Add raw peanuts (or cashew nuts) and fry until just golden and aromatic.
Add slit green chilies and fry for few seconds.
Add chopped onions and salt, fry until soft and pink.
Then, add chopped carrots, beans and green peas, sauté on high for a minute.
Add curcuma and red chili powder, sauté for a minute.
Now, add 3 cups of water and bring it to boil.
Once water boils well, add lemon juice and roasted vermicelli, mix. Allow the vermicelli to absorb water.
Cover and cook on low for 2 minutes only.
Add chopped coriander leaves, switch off the heat and leave it undisturbed for couple of minutes. Then fluff it up using spoon or a fork. Dish out and serve.