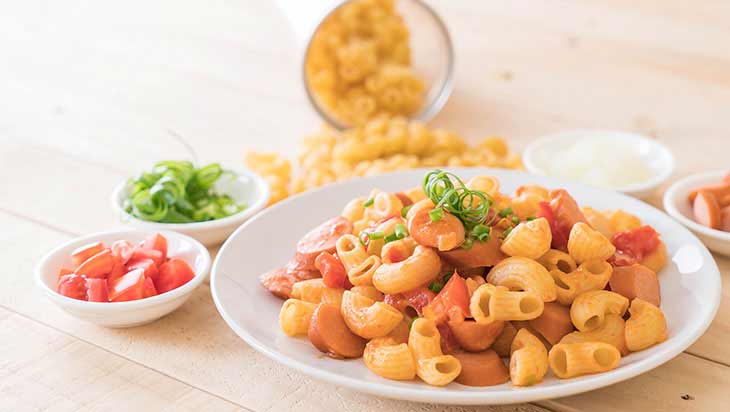 30 min

4 people

Medium
Ingredients
300 g OJAO Gluten Free Elbow
1 tbsp olive oil
14 slices of sausage
1 large onion , chopped
2 garlic cloves, crushed
200g tomatoes
Pinch of salt and pepper
Preparation
Heat 1 tbsp olive oil in a large frying pan and fry chunky 14 slices of  sausage on a fairly high
Turn the heat down and add 1 large chopped onion and 2 crushed garlic cloves, cook them until they have softened.
Add  tomatoes, bring the sauce to boil then turn the heat down and let it bubble for about 10 minutes while you cook the pasta.
Drop pasta into the pan of boiling water and cook according to the pack instructions.
Add the pasta in boiling salted water (1l of water and 10g of salt per 100g of pasta), cook for 8-10 minutes then drain.
Then tip it into the frying pan with the sauce, mixing well to coat.